Custom handcrafted to securely fit the rail or bulwark profile of your megayacht or superyacht and hardware configured to your exact needs. Each assures ideal protection from line abrasion on rail or
gelcoat
surfaces and helps assure that suspended fender lines remain clear of yacht surfaces. Megafend will also craft
special purpose hooks
such as rod or mooring whip holders. We innovate to match your needs.
The core structure for Megafend fender hooks and special purpose hooks is strong and durable 316 stainless-steel. Each is artfully formed without sharp edges and most styles have the underside covered with a super soft sheep wool. The topside is covered with premium grade maintenance-free (NEVER-OIL) leather in beautiful marine colors. The coverings are artfully stitched together for a richly detailed look. Hardware is quality 316 stainless, polished or powder-coated in a range of colors. Brilliant anodized finishes are also available. Hardware choices include patented threadless fairleads, custom D-rings, box rings, cam cleats, custom sized threadless spreader bars and much more.
Maintenance-free leathers are available in brown, black, green, blue and white.
Built with integrity in the USA by skilled Megafend craftspeople!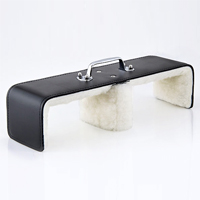 New from Megafend!
Megafend introduces the new
Bulwark Door Stopper
specifically designed for mega yachts. The easy to use and store Door Stopper keeps a door in place and protects painted and varnished surfaces.