Here is what Megafend clients have to say :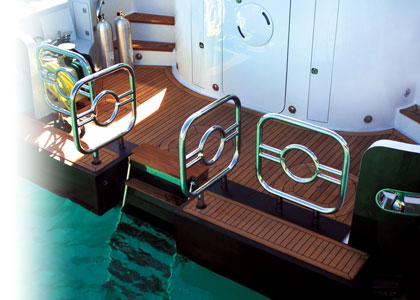 Shown is a typical custom transom fender installation
featuring flexing faux-teak overlay on soft-step areas.
Aft Transom Fenders
Hi,

Just a quick email to let you know that our boss has commented at least 4 times on how happy he is with the fendering system (Aft Transom Fenders) we have on board now. Good job, I will recommend your product to my friends in the future.

Many thanks,
1st Officer Jared Boshier
50.50 meter (165.68 feet) Heesen Sky
EDW™ Extreme Duty Welded Inflatable Fender
I just wanted to touch base and let you know how pleased we are with the super-large fender to date.



It looks great and has been performing perfectly. As I explained to you the problem we had with other brand fenders of this size, was the bursting due to expansion and contraction of the air. Here in New Hampshire it can be 90 degrees during the day with the hot noon sun beating down on the fender. Then at night the temperature can go into the low fifties. We had to adjust the pressure in the fender each day to keep it from bursting.

If we inflated the fender to a useful but soft pressure in the evening, the hot mid-day sun caused it to expand and burst on two different occasions. If we set the pressure to the proper firmness in the middle of the day, the contraction in the evening left the fender useless and wrinkled like a prune.



We have experimented with the pressure on the Megafend unit of the same size and found that the construction strength of your fender tolerates the expansion and contraction much better. We have been able to inflate it to a soft but perfectly useable firmness at night and leave it alone. It does expand and become extremely firm in the hot sun but we have not had any bursting or leaking so far.

Since both fenders are the same size, color and used under the same conditions, I have to believe that the Megafend fender is simply better built and much stronger than the competition.



I know this was the biggest unit Megafend had built to date and I want to thank you for your help in putting this project together, as well as your follow-up since delivery.



I am impressed with the fender and even more so, that the owner of the company took the time to personally call to make sure we were satisfied.



Thanks again,
Captain H.
39 meter Northcoast Yachts


EDW™ Extreme Duty Welded Inflatable Fender
I just want you to know how pleased I am with the 2 fenders I purchased at the boat show. We are 2 months into the the great loop, the ball works wonders in the 73 locks that passed through, not a scratch on the boat. One windy day with the wind pushing me on the dock I went 90 degrees bow into the dock, dock girl took my bow line tensioned it to cleat, I pivoted on your ball fender and eased the stern in with the protection of the big inflatable you sold me. Your product is wonderful. I would love to work your booth at a show sometime.



Happy customer,
Roger Cann
EDW™ Extreme Duty Welded Inflatable Fender
Dear Garry,



I just wanted to let you know how happy we are with the new EDW™ Extreme Duty Welded inflatable fenders.



After a full summer of use, I can say that Extreme Duty is the appropriate name. These fenders are far superior to any other inflatable product on the market and I have tried them all. The welded construction of the seams and straps produces a fender that not only looks incredible but holds up to the abuse they get between a 130 foot motor yacht and some not so perfect docks and pilings.



The extreme temperature changes we experience in New England had no effect on the fenders. At times it could be 60 degrees at night and 100 degrees with the noon sun beating down on them and we never had to adjust the air pressure to allow for expansion to prevent splitting a seam. Once inflated to an "average" firmness, they handled the expansion and contraction perfectly.



These are the only fenders that have not split at least one seam in a season!



I also like the fact that your products are proudly made in America, locally in Ft. Lauderdale. Although I don't expect it, if there were an issue, I could get it addressed face to face with you and your team directly.



Thank you for another great Megafend product.

Regards,
Captain Bill Hipple, M/Y Lady Kath
Palm Beach, FL

EDW™ Extreme Duty Welded Inflatable Fenders
Garry,

We have our fenders in place. Thank you for completing them in record time!

I will send Tein a few pictures.

Ashleigh Moolman

Chief Officer

M/Y Sea Owl
We'd love to hear about your experience with Megafend or our products. Please
contact us
if you would like to add your comments to this page.